I have to admit that I'm pretty late into the game for seatbelt style NATO straps even though NATOs are my preferred straps. Why do I like NATO? They come in so many different varieties of colors and materials, has roots with the British Military of Defense, looks trendy and rugged, and most importantly it gives extra protection to your watch case if one of the spring bar ever fails. I have heard of BluShark, notable for their quality straps and today I have a chance to review three different NATO straps from them.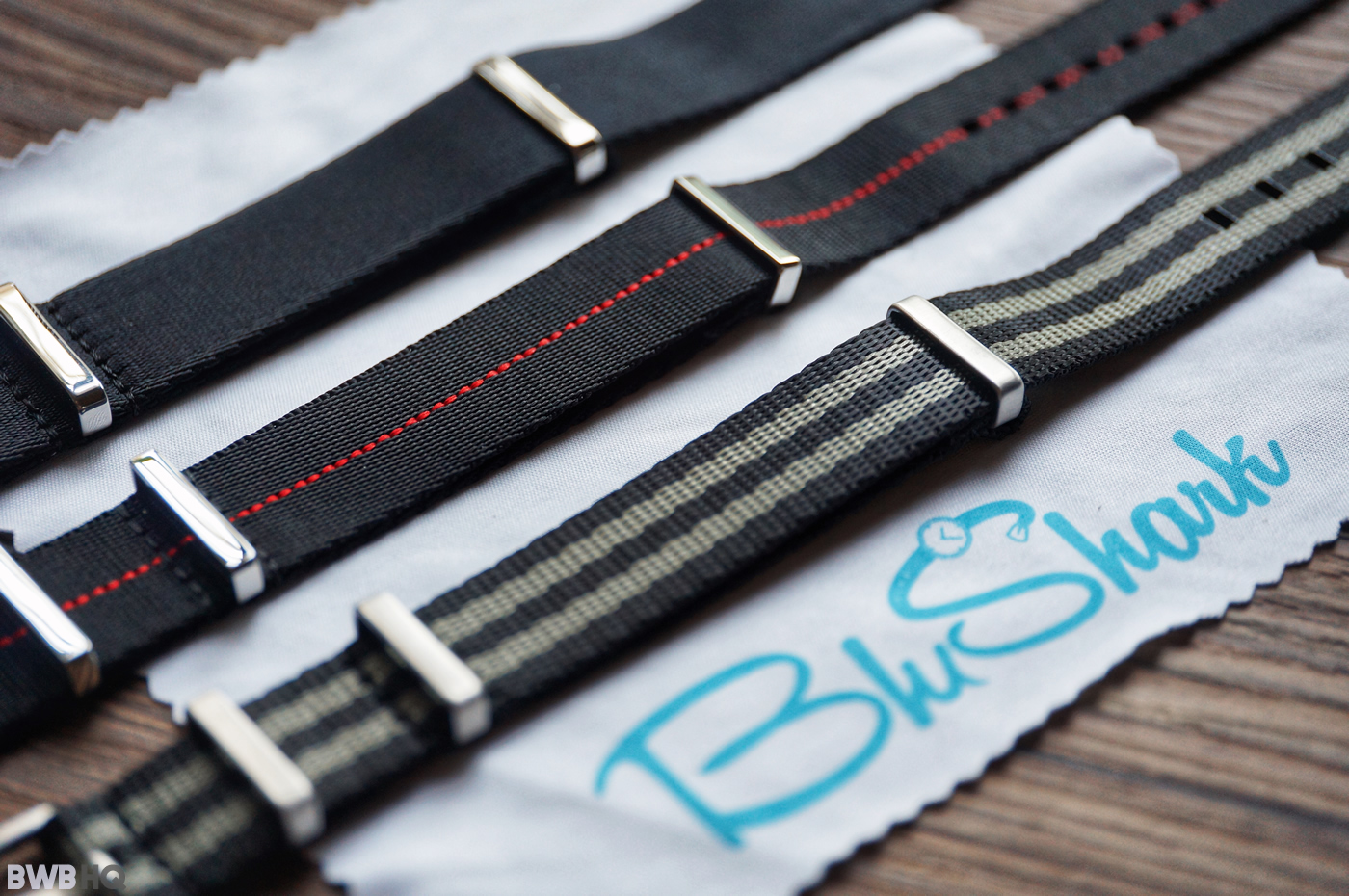 AlphaPremier Stealth Black – 22mm
I believe this is the highest quality nylon available in their collection, this premium strap is silky smooth to the touch. Slightly thinner at 1.2mm, this also comes with a floating keeper and two choices of hardware. This particular one is the stealth black version paired with the polished hardware. Soft and comfortable on the wrist, this will match most watches. The removable buckle has a bigger tongue to match the square holes is also a bit longer at 290mm. This would fulfill the needs of those bigger wrists but personally for smaller wrists like my 6.1 inch one, it felt slightly a bit too long amplified by the thinner profile. One caveat is that when paired with a heavier and thicker watch like the Seiko SKX173/SKX007, it felt a bit loose or flimsy on the wrist probably because the texture is so smooth that it glides around. I prefer a thicker and sturdier ballistic NATO type strap with the SKX. Other than that, this is a great looking strap with attention to details like the extra pattern at the sides and feels luxurious. These go for $36.
AlphaShark Slim Black/Red Stripe JV – 20mm
My favorite of the bunch, this 280mm long strap uses seatbelt nylon which has a coarser weave as compared with the AlphaPremier series. The red stripe looks great with watch dials that have some red accents but would also spice up any other watch. Also measuring at 1.2mm which the name suggests, it feels great on the wrist with those angular looking hardware. Also coming with one floating keeper, I find it's not necessary for smaller wrists but something those with larger than 6.5 inch wrists would appreciate when folding the strap end. The polished buckle comes with a smaller tongue and has smaller round holes instead. Here you can see how it pairs with the Baltic Panda chronograph. The AlphaShark Slim is priced at $32.
AlphaShark Bond – 18mm
Everybody loves a Bond strap especially after making an appearance in Daniel Craig's Spectre. This 1.4mm thick strap is weaved with a more complex pattern that is different from the AlphaPremier and AlphaShark that has a luxurious sheen to it. Upon closer inspection, the pattern and color matches quite closely to the original Omega Bond NATO. The thickest of the three straps, it feels great on the wrist even smaller ones even though it's longer at 290mm. The brushed hardware looks great and this also has a buckle with bigger tongue along with heat-sealed square holes. It felt just at home with my Omega Seamaster Diver 300M. I'm not sure if it's just my strap but this particular one frayed quite easily after just using it for a couple of days. Nevertheless it's a quality looking strap that will lift up the look of your timepieces. It's priced at $32.
Overall I'm rather impressed with the straps and would recommend them for anyone looking for a good variety of top-notch nylon straps and we have not even mention about their silicone, Cordura and Canvasoft collection yet. BluShark has you covered for whatever style you seek. If you are interested head on to their website to find out more.
Disclaimer: BluShark kindly sent us the straps for this review