One of my grail watches was definitely set after watching Pierce Brosnan James Bond's Goldeneye movie. He was wearing the Omega Seamaster Professional 300M. To me, the design was rather unique with the wave-like bezel and that interesting looking steel bracelet. So when I came across something similar on the internet from Seiko while searching for Omega Seamaster homage watches, I started looking for it. The only problem, I was too late to find out about the watch. Initially I stumbled across the Seiko 5 SNK031K(black dial), SNZ387(white dial) and SNZ389(blue dial) only to find out that it's like produced earlier than 2006 judging from the posts' dates in watchuseek forum. The SNZ387 and SNZ389 are another variant of the Omega Seamaster but looked even more identical.
So I searched around and true enough all of it was already out of production and it's no longer being sold anywhere. Then I decided to fallback to the SNK027K which is the white dial version and see if there's by any chance still available. In fact this piece looks very similar to the discontinued Omega Seamaster 300M Quartz reference 2542.20.00 with the steel bezel insert. After many dedicated hours, I found the only one listing on eBay and someone willing to ship to Malaysia. Problem was, the price was hiked up from what it originally was.
Now I know some of you might ask why not just get the real thing, but that's another topic altogether. So anyway I paid more than double the price it was after futile price negotiation. It's expected I guess since during that time in 2015, it was the only piece available. From what I noticed, certain out of production watches that continue to have high demand will definitely see prices climb after that on the secondary market.
So after a couple of weeks, in great anticipation the watch arrived. After the unboxing, the watch looked like it was old new stock. It was extremely dusty and the plastic stickers were like really worn off. After removing everything into it's wearable state, I must say the feeling I got when I saw it in person wasn't what I felt when I saw it from the pictures. I'll explain why later.
Case: Stainless steel
Case Diameter: 40mm
Case Thickness: 12.7mm
Case Length(lug to lug): 44.3mm
Movement: 7S26A
Water Resistant: 100m
Crystal: Hardlex
Lume: LumiBrite
Lug Width: 20mm
Strap: Stainless steel
The case itself is what got me interested. It's a 40mm stainless steel case but what makes it very wearable for small wrists are the lug to lug distance and in this case 44mm which makes it perfect for my tiny wrist. The case is a mixture of brush and polish which is rather nice and doesn't make it too flashy but since it's a Seiko 5 the quality of the polishing isn't as good. It has a 120 clicks unidirectional diver like bezel with 10 minute interval markers. It would've been good if there was a lume pip at the 12 o'clock marker but since this is not a true diver I'll forgive it. The bezel insert is a nice brushed finish and you have high polish on the side with wave like patterns just like the Omega Seamaster but this bezel is thicker. The case also has drilled lugs which is really nice and useful for changing multiple straps without unnecessary scratches.
The crown is small, plain and unsigned at 4 o'clock but it comes protected with crown guards. There's a see through caseback at the back where you can see the legendary workhorse 7S26A movement which should have around 41 hours of power reserve. It's non-hacking and not capable of hand winding but it's compensated with a reliable movement that can last more than a decade without service.
The dial itself has a lot going on. I think it's rather crowded with the day and date window which is more prominent since it's silver brushed and beveled. It has lume applied polished metal indices which I think is LumiBrite but don't expect diver like quality. It's surrounded by detailed printed black seconds markers. The tiny sword hands are lumed while the seconds hand has a rectangle red tip. I'm not a fan of the hands and planning to mod the hands. Stay tuned for that post.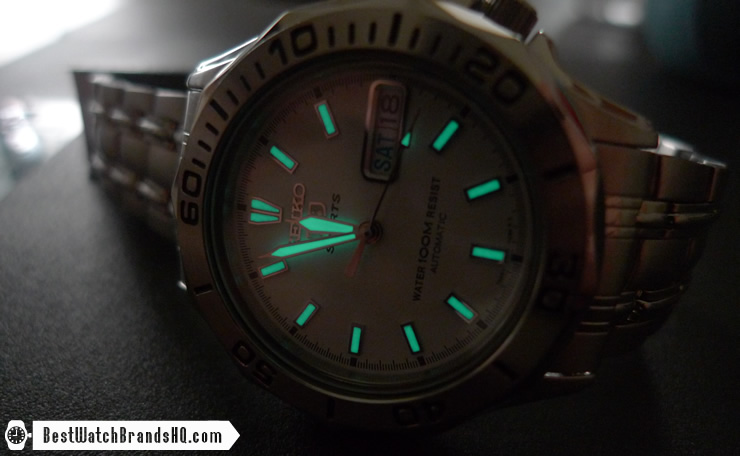 So when looking at the whole piece in my hand, even though the bracelet is like the Seamaster but the quality is not there and the whole look doesn't do it for me. So after swapping it out with some other aftermarket straps, my love for the watch started to grow on me. I even got a compliment from my boss who wears a more expensive piece and wondered if it was a diver. When looking at it from certain angles and certain lighting, it's really nice especially looking at the glossy dial with the polished indices.
The whole reason I got this watch is that I'm thrilled with the endless possibilities I could go with modding this piece with different dials and straps. While I paid more for this but I think the joy of how I could use the case to have more combinations of different looks sort of justified the purchase. Also the fact that this would fit my wrist so much better and has a 20mm lug width would mean that I could reuse most of my other straps. I will be planning my many different mods so stay tuned. Last I checked, it seems there's one available at Amazon for around $425. That's even more than what I paid for.
Update: Here's a shot of the modded hands after my little experiment and love how the light plays on the dial in certain angles.