Instagram and Facebook is truly bad for people with SHA (Severe Horological Addiction) condition. Okay so I made that up but when flashes of sexy curves and creamy dials keep appearing in front of you, it's hard to resist the temptation to dig further. That's how I accidentally stumbled upon this microbrand called Baltic. After checking their Instagram which has a decent following, I was attracted to their vintage inspired designs where they have two main models being the chronograph BICOMPAX 001 and the three handed HMS 001 series. Both have a variety of colors of cases and dials to choose from.
Upon further digging, Baltic is actually founded by Etienne Malec who is based in France. He inherited the interest from his father who was a passionate watch collector. Etienne's father actually recorded all his watches in a journal which I then believe cultivated the design inspiration found in the current lineup of Baltic watches. When I found out about the brand, it had already successfully launched the initial range through Kickstarter and the attractive watches definitely pique my interest in it. I was not only interested in the BICOMPAX 001 chronograph Cream and Slate/Grey versions but also the three-hands HMS-001 Cream and Black Silver ones. While contemplating, I saw a post on Instagram about a limited run of the BICOMPAX chronograph in a Panda and Reverse Panda version that would be released soon. I was totally attracted to both though I leaned more towards the Panda and it definitely made the decision easier that this would be my target instead of the current range. Limited to 100 pieces for each, I had a hunch that it would be hard to get one considering the response and the poll leaning more to the Panda.
I set a reminder for the day to my local timezone but got it wrong the first time as I was one day earlier. So I was ready for the actual day and the website was running slow at the time of release which is to be expected from the traffic and other eager horological vultures who are ready to pounce on it. After a couple of frantic tries, I managed to checkout within the first 10 minutes and was glad that I would be one of the lucky hundred. True enough, demand was high for the Panda and it was sold out after 30 minutes. I then took a break, sip some tea knowing that the FedEx tracking number would be emailed to me soon enough. I was a bit surprised that the Reverse Panda took quite a while to sell, almost more than a week. I guess I could understand why which I'll explain later. So after waiting patiently, it arrived after a week.
Excitedly, I took a short break from work and went straight to my car to unbox it. The outer box is a classy matte black and inside is an attractive cork box design and upon opening you could see it planted sideways by a centre holder. Now I was slightly disappointed that my piece had fingerprint smudges all over it that I nearly thought that mine was used but I guess someone somewhere must've found it irresistible and had to fondle it.
Initially, I had some slight hesitance about the size and actually looked at a lot of Instagram wrist shot images of the piece before deciding. Both the three-hands and chronograph share identical dimensions with only some slight difference in thickness. I have no issue with the 38mm diameter but I was afraid the 47mm lug to lug would be a bit too much for my 6.1 inch wrist. 47mm length is actually the limit I have set for myself without looking awkward on the wrist. The lugs are long and thin and when viewed sideways would seem more flat than curved. If you have rounded wrists, the lugs would have felt like it's sticking out but I was pleased that thanks to my flatter wrist that it wore well enough though I would have preferred it to be 46mm or less. So I would say these dimensions was smartly designed as it wears larger than the 38mm diameter would suggest and will look good both on smaller and larger wrists.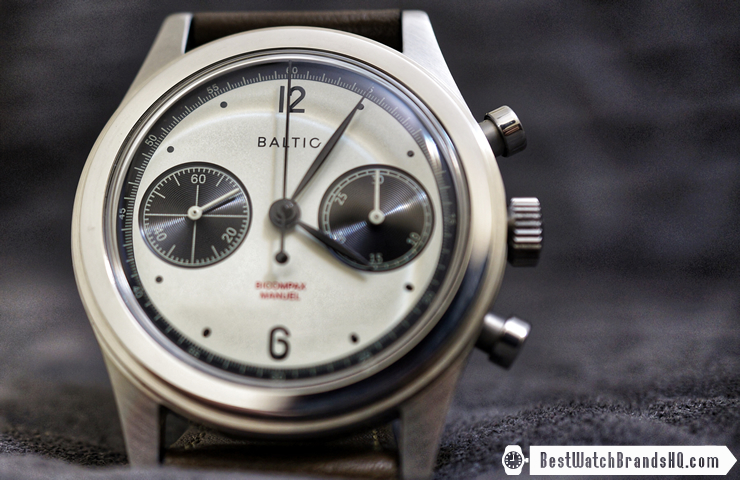 The case design is what they call the step cased design that is found in many chronographs in the 1940s. The attractive case features three types of finishing where you have circular brushing at the top lugs, linear brushing at the sides and polished for the top bezel. This creates a rather interesting mix that makes it very versatile. Depending on your strap choice, the mainly brushed surfaces gives it a 'toolwatch' look but put it on a classy leather strap and the polished bezel gives it the dressy look. The acrylic crystal gives it that vintage vibe which can't be replicated with a sapphire glass. It's only going to get better with age. With the crystal, the thickness is at around 13mm which is not exactly slim but would still be able to squeeze under the cuff. The 20mm lug width makes this a strap monster as that's the most popular size for straps at least for me. Did I also mention that it has drilled lugs? That makes strap changing a breeze. The only pet peeve I have is with the engraved crown. The "B" to me looks rather plain and is not symmetrical to the circular crown. The only exception I can think of is the "S" from Seiko as the alphabet looks more balanced. They could've added more circular pattern engraving around the alphabet to balance it out.
The dial is of course the main attraction. After Paul Newman's Rolex Daytona was sold for $17.8 million, many watch enthusiasts sought alternatives to a watch that is largely unobtainable. This BICOMPAX Panda definitely gives that Daytona 'feel' with some uniqueness. The dial is simple and well balanced with printed numerals at 12 and 6. The rest of the hourly indexes and chapter ring is painted in black. The minute and hour leaf hands are also painted in black. The two sub-dials are textured 'Guillochés' circular pattern in black with contrasting white hands. The left sub-dial is for the seconds indicator while the right is the 30-minute counter for the chronograph feature. The dial is just the perfect cream color that is not too creamy or white and the subtle red French words "Bicompax Manuel" are printed in red across the bottom of the dial.
The movement is where it becomes a topic and a reason of discontent for some however I admire that Baltic was upfront and transparent about it. Using the ST19 chronograph that is by Chinese watch manufacturer Seagull, cheap and low-quality will creep into mind. This particular chronograph does have an interesting history though. Originally a Swiss movement called the Venus 175, it was used in the 1940s and Omega even used movements based on the Venus 183 in the Speedmaster Moonwatch. The current legendary Valjoux 7750 was also derived from the Venus 188 movement. Venus later sold the rights of the 175 movement to China and is reinterpreted as the current Seagull ST1901. It's largely the same movement but the rate has been increased to 21,600 vph.
I'm not a movement expert and budding watch enthusiasts like myself will often hear the term column wheel chronographs. The Seagull ST1901 is a column wheel chronograph and has been widely thought of as the higher-end mechanism as compared to others as it's more expensive to produce. However this might not be the case for the ST1901 as it's relatively affordable. To identify if it's a column wheel chronograph, pop open the caseback and you would see a component that looks like the top of a castle turret or a chess rook. For this particular limited edition, you can't enjoy the view of the movement as the special caseback is needed to engrave a unique number and logo though you can pay extra for an open caseback.
It was mentioned in Worn & Wound's podcast interview that the case was built around the movement and when I tested it, the start/stop pusher has a really nice strong click to start it. The reset pusher though is rather soft but after checking around seems to be a trait of this particular movement. After wearing it for a week, the accuracy was not bad and I was getting around +6/7 seconds per day. The manual-wind movement has a claimed power reserve of approximately 45 hours and is non-hacking for the seconds. My first testing gave me around 50 hours when fully wound which surprised me and I did a second test and it gave me a similar result. Perhaps after using it for a longer period, I will have an update in another post on how the movement is doing.
This limited edition comes with three strap choices taupe stitched, dark chocolate and smooth black. I chose the taupe one and the Italian leather is soft and of high quality. 20mm in width that tapers to 16mm gives it the classier look also has painted edges and is paired with a signed brushed buckle. I'm glad they did not cut corners with the strap.
Baltic is one of the few micro brands that caught my attention and I have no doubt that they will continue on with the momentum that they are having. The neo-vintage designs are well executed and also unique. So the question here is whether is it worth the $660 price tag considering other watches with similar movement cost half of it? A lot would argue that it's a bit steep considering the parts are mainly sourced from China. This is justified by Baltic that while parts are from there but it is assembled and tested in France. From my initial experience with it, I can say that overall feel is that it has been made very well and I'm pleased with it. I would say that aesthetic wise was the main reason I took the plunge more than anything else. So I think if a watch gives you so much pleasure wearing it, that extra cost shouldn't be of too much concern as it would be worse to have paid a premium for a watch that is worth its price that you ended up not enjoying. So if you're interested in this vintage-styled watches, check them out at Baltic Watches.
Case: Stainless steel
Case Diameter: 38mm
Case Length(lug to lug): 47mm
Thickness: 13mm
Movement: Seagull ST1901
Water Resistant: 50m
Crystal: High-domed Hesalite Glass
Lume: None
Lug Width: 20mm
Strap: Italian calf leather